<!– google_ad_section_start –>
Written by

jblovly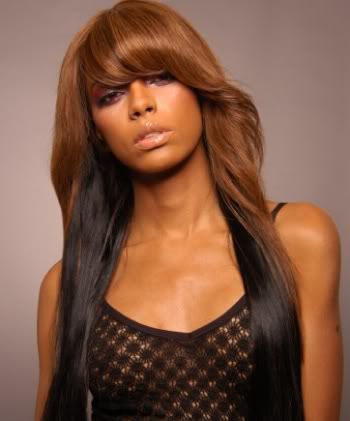 Two toning your hair is a technique used to add two shades to your hair. Usually, the top half of your hair is a light shade, while the bottom half of your hair is a dark shade. However, you can do the reverse with a light tone on the bottom and a dark tone on the top half. Whichever way you choose to two tone your hair, you need to make sure that it is done evenly and straight. If it is not even, one color will overpower the other. (Please be mindful that this can be done with a weave or extension)
1. Section your hair off down the center of your head from ear to ear.
2. Clip the bottom half so that it cannot touch the top half. You could even use a shower cap and secure it with a rubber band to make sure the dye doesn't get on the bottom half of the hair.
3. Mix your light or dark color according to the directions on the box.
4. Apply the color onto your hair making sure to comb it through for even distribution.
5. When time has elapsed, you can wash out the top portion.
6. Blow dry the top portion of your hair.
7. Now remove the shower cap from the bottom half of your hair and repeat the same process (steps 1-6). However, in this case, the color should the opposite shade than the top color. (i.e. if you used a light tone on top, then use a dark tone on the bottom.)
8. Now you should have a two tone hair color.
Ā 
Comments

(0)



Write comment



<!– google_ad_section_end –>